If you know me, you know I LOVE organization. That's how I knew ClickUp would quickly become my new business bestie (and I was right!)
ClickUp is a project management system that keeps all of my client tasks organized… without making me lose my mind.
What is ClickUp?
ClickUp is an all-in-one project management tool that will help keep you on track and productive in your business. Who wouldn't want that?!
It's your agenda, to-do list, sticky notes, and reminders, all in one place. It's time to close those trillion tabs you have open, and throw out those loose pieces of paper you have spread across your desk. ClickUp is the one place you can keep it all. I feel calmer just thinking about it.
Basically, if you want to make your business life easier, you need ClickUp.
DISCLAIMER: I still love me a paper planner, but that is for my top-level tasks… I go to ClickUp for the nitty gritty that would frankly make my pretty planner all kinds of cluttered. 🙂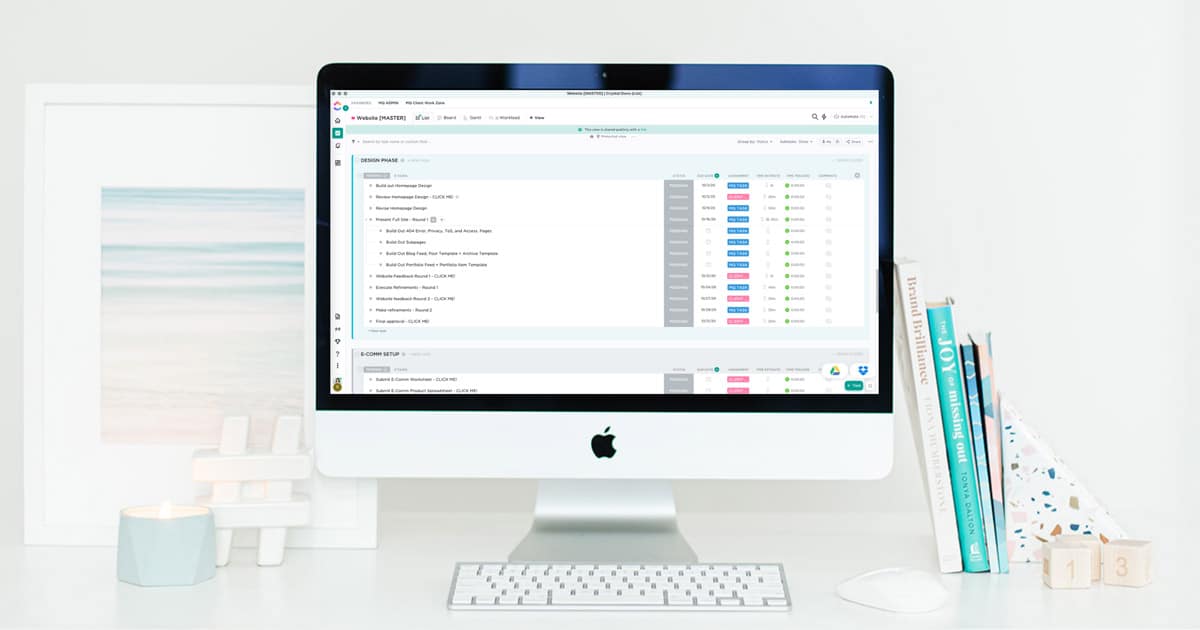 Can even the disorganized person be organized with ClickUp?
Yes, you'll be able to do it too. Promise!
The ClickUp platform is not only gorgeous, but it was designed in a way that makes it effortless to stay organized.
Let me walk you through it. Well, let me walk you through the mall!
ClickUp is set up like a mall for your business. You can have various stores in the mall, these will be what ClickUp calls Spaces. Each Space has its own purpose, and reason for being there. Some are big and offer a lot of variety, while some are boutique and efficient.
Within the store, you have different zones for products to go in. We'll relate these to the Folders in ClickUp. So for MQ, we have a space (or a store) called "Client Projects" – and inside of that space is a folder for each client.
Folders are glorious, they can contain documents, grouped task lists, and so much more. The lists are seriously everything! I'm not sure if anyone can manage a project without a list.
Now, I totally understand how new softwares can feel overwhelming when you're first learning it, but within a few hours of playing around in ClickUp, you'll feel like a pro!
(Especially if you watch a few of their webinars)
3 of Our Fave Features
#1- Easily Find What You're Looking For
You can add any of the spaces, folders, or lists to your favorites so you can access it with super speed (and even pin them to the top of the app).
They also have a quickswitch which allows you to easily search up the name of the desired space, folder, or list you're looking for.
#2- Create Simple or Complex Systems
Whether you have a simple project or a lengthy one, you can completely customize each project flow with tasks and to-do lists, gantt charts or calendars. ClickUp is designed with easy-to-fill sections to ensure your success (without too much thinking). It'll prompt all those key questions, like who is doing the task, what is the task, when it needs to be done, and so much more!
#3- Project Flow Perfection
Each project can be updated with its current status so always know where you are in the project and where you should be to meet all of your deadlines. This is extremely helpful if you aren't the only one in your ClickUp space. Relay the progress being made to your clients, teammates, or whomever is working alongside you to get the project done.
Uplevel Your Workflow with ClickUp
Seriously, this software is going to be a game changer in your business! Stop getting stuck and bogged down setting up tasks when you can streamline it in a few easy clicks.
It's time to say hello to your new business bestie!
If you're ready to start using ClickUp in your business, click here to start a FREE trial!
---
Enjoy this post? Pin it for later…
For help pinning this graphics – here's a helpful link!